Fast & Furious
February just got more FABBBB with the trailblazing challenges, competitions, and rewards that are going to make your jaw drop! Introducing Fast & Furious February - It's fast, unsurpassed - we're sure you'll have a blast!!
Brace yourself to indulge in some unparalleled poker action at Adda52.
70+ Featured Tournaments
Whaaaaaa?? Yes, you read it right!!
February is going to be your most favorite month this year! You're going to bag fab winnings and fantastic rewards. More than 70 events with a total prize pool of 18 CR GTD will be held to savor your 'poker buds'. You're going to love it.
You know what else we have in store for you? 9 grand marquee events such as Adda52 Millions, Godfather, Ironman, Maverick, etc. Every week, you will stand a chance to have a tremendous win.





The highlights of the Fab February
There's so much you can get from this month's events - we bet you'll never forget!! Out of all the mind-boggling events, here are the highlights of the month -
Adda52 Champions Leaderboard (ACL) - This fest has a total prize pool of 2 CR GTD through the tenure of 11 months. No kidding! Take part in it and have the most unforgettable and fantabulous time of your life!! Be fast, be furious, be 'poker-face up'!
Adda52 Tournament of Champions (ATOC) - The ultimate test of mental skill & ability comes to you with well curated events offering players the highest standard of the game.
Adda52 is proud to present Adda52 Tournament of Champions, the ultimate battle ground to compete with the best of the best. ATOC offers an unparalleled playing experience with a massive 8 CR GTD featuring buyin"s ranging from as low as Rs 550 - Rs 27500 !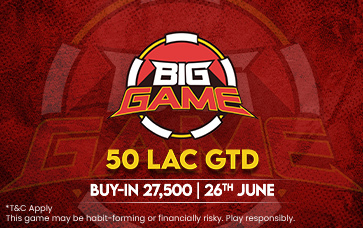 Back Again! This event has a total prize pool of 50 Lac GTD. It's time you take home some overwhelming amount of cash rewards!! Come on, turn your poker face up!!
Bubble Insurance
Caught in the bubble?
Adda52 brings you bubble insurance to safeguard your gameplay!
Do you often find yourself in the bubble position?
Fret not! Now play without a worry as Adda52 has you covered.
On being at the bubble position for the said tournament, Adda52 gives you a Free Entry Ticket to the same tourney for the next week.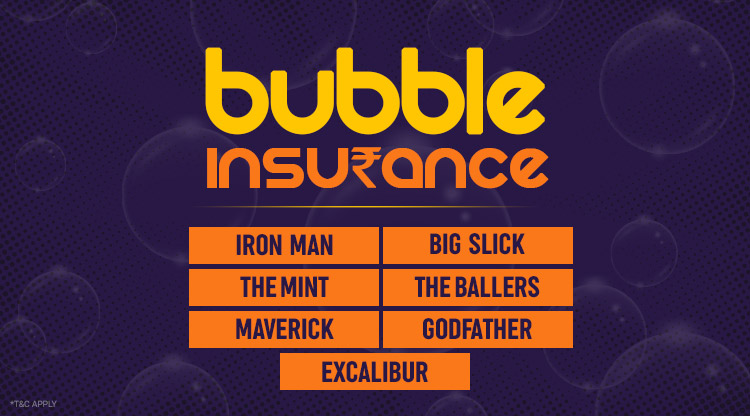 Terms & Conditions
Adda52.com reserves the right to modify or end this promotion at any time without giving any prior notice to players.

All ticket holders will be auto-registered before the start of the tournament & satellites events.

To get eligible for BUBBLE INSURANCE, the player must join the tournaments (above mentioned) before the start time of the tournament.

Irrespective of the player's total no. entries in the tournament, only 1 entry ticket will be awarded as bubble insurance.

Tickets will be credited to the players' account next Monday before 6 PM.

By participating in the tournament, the Winner consents to provide his image, interview, etc., to be used as promotional content by Adda52.com and its media partners.

This game may be addictive and subject to financial risk so please play responsibly.