2023 is all about - New Beginnings & New Winnings🔔!
And not just even the winnings, we also got the surprises for you😍!
So, why wait?
Let's head into the 2023 with yet another surprise- Grinder's Delight🎁!
Because the guaranteed winnings from ₹10.3 Lacs are definite here with a buy-in starting from ₹240.
And, not just that!
Your next tournament ticket will be on us. ! Here's how:
Join 5 out of 7 Lite Marquees (Iron Man Lite, The Mint Lite, Maverick Lite, Godfather Lite, The Ballers Lite, HeadShot Bounty Lite, Mega Suits Lite) in a week & you will get a free ticket to play Godfather Lite tournament the next week.
The monthly package to Goa is also up for grabs! The leaderboard will run for all Lite Marquees for the entire month.
*Tickets are to be credited by Wednesday.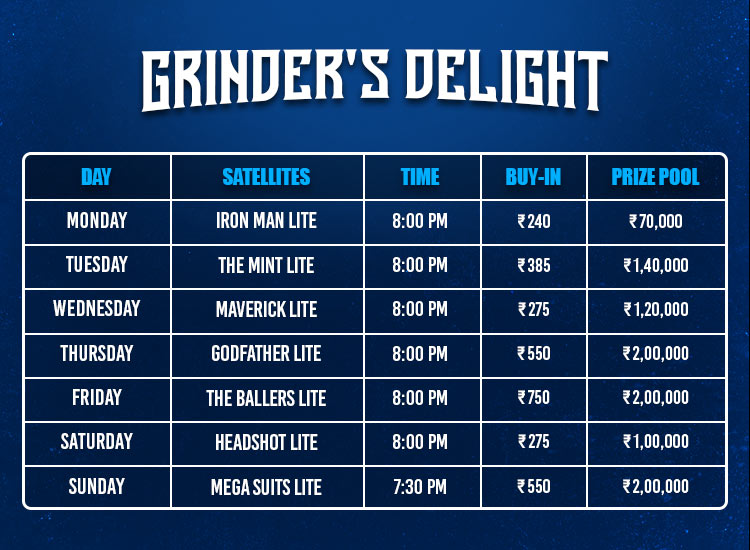 Hurry! Join the tables & start winning now!
Terms & Conditions
Adda52.com reserves the right to modify or end this promotion at any time without giving any prior notice to players.

To withdraw the amount deposited using bonus code, the user needs to attain 7.2 Release Units. Bounty amount needs to be paid by the player.

By participating in the tournament, the Winner consents to provide his image, interview, etc., to be used as promotional content by Adda52.com and its media partners.

If you are eligible for the Free ticket, it will be credited by Wednesday.

Leaderboard for Grinder's Delight will run monthly.

Goa package can only be availed from Mar-May 23. This package cannot be re-imbursed or refunded under any circumstance. Player has to email us for booking at least 2 weeks in advance to accommodate the request. Adda52 reserves the right to deny/defer the accommodation request in case of no availability.

Grinder's Delight tournaments will not run during the Nano Poker Series.

Tournament tickets (Deposit, Discount, Adda52 Store or Satty) will not be refunded or exchanged with another tournament. Ticket will expire after the promotion

This game may be addictive and subject to financial risk so please play responsibly.