JANUARY SUIT UP
Attention Players!
It's time to suit up as a lot of exciting and unlimited Poker action awaits you this January at Adda52!
We are all set to make the first month of 2021 unforgettable for you with some MASSIVE surprises! Welcome the arrival of New Year with 'January Suit Up' and get ready to be mesmerized with the 'never-seen-before' challenges, competitions, & mind-blowing cash rewards!
There is something for everyone! Here are our January cash games offerings for you-
70+ featured events
Nothing can be more awesome than this! Play your favorite card game the whole month & win from a massive guaranteed prize pool! More than 70 featured events will be held on the website throughout the month to satiate your Poker cravings.
Nine marquee events such as Adda52 Millions, Godfather, Ironman, Maverick, etc will take place weekly on Adda52 for players of all calibers. Prove your prowess and grab wonderful prizes every week!





800+ Low & Mid buy-in events
That's not all! Adda52 is going to host more than 800 low and mid-buy-in events this month. Play across stakes and take home breathtaking cash prizes to ring in 2021 with a bang!
So what are you waiting for? There are a lot of rewards waiting for you out there and you don't even have to do something special to avail them! Just get up, dress up, & show up! Hit the cash tables to experience the high-voltage Poker action NOW!
Stay tuned for a roller coaster ride ahead!
BUBBLE INSURANCE
Caught in the bubble?
Adda52 brings you bubble insurance to safeguard your gameplay!
Do you often find yourself in the bubble position?
Fret not! Now play without a worry as Adda52 has you covered.
On being at the bubble position for the said tournament, Adda52 gives you a Free Entry Ticket to the same tourney for the next week.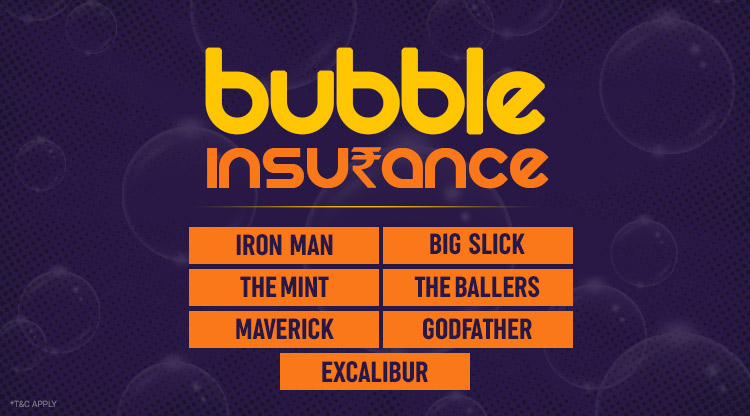 Terms and Conditions
1) Adda52.com reserves the right to modify or end this promotion at any time without giving any prior notice to players.
2) All ticket holders will be auto-registered before the start of the tournament (Only 8 PM tournaments along with Big Slick).
3) To get eligible for BUBBLE INSURANCE, player must join the tournaments (above mentioned) before the start time of the tournament.
4) Irrespective of the players total no. entries in the tournament, only 1 entry ticket will be awarded as bubble insurance.
5) Tickets will credited to the playters account on next Monday before 6 PM.
6) By participating in the tournament, the Winner consents to providing his image, interview etc., to be used as promotional content by Adda52.com and it's media partners.