Adda52 introduces the first-ever tournament in India that starts with a buy-in of Rs. 499 & opens up to the prize pool of 1 Crore GTD & the grand WPT Trophy. Wake up! WPT Unreal is for REAL!! It's time to play & take a CALL (pun intended) because this tournament is truly for ALL.
Let August be full of magic as you advance towards grabbing a gigantic share from 1 Crore GTD and a beautiful trophy worth bragging about.
Here is the complete WPT Unreal schedule.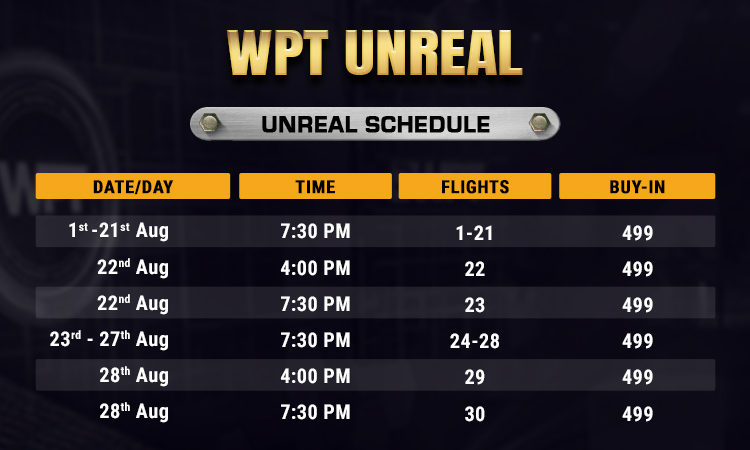 Here's what's special this month–
How to enter?
It's about time you turn your buy-in of Rs. 499 into winning from a prize pool of 1 Crore GTD! Do you know that you will get, not one, but MULTIPLE chances to win from 1 Crore GTD? You can play multiple flights and your highest stack (or chips) will be taken to the finale. How amazing is that?
That's not it! Here are some other ways to enter this unimaginable tournament.
Freeroll - Win daily tickets to WPT Unreal by playing freeroll tournaments this August. This is the best way to enter the 1 Cr tournament for FREE.

Signup - Now along with a bonus, you can also grab a free ticket to this tournament by signing up on Adda52.

Deposit - Gear up for multiple deposit offers running during the WPT tournament. Use the deposit codes and get a free entry to the WPT Unreal tournament.

Satellites -Playing to win from Rs. 1 Crore GTD just got easier & more exciting. Enter the tournament with buy-in as low as Rs. 49 by joining various sattys & step sattys.

Adda52 Store -You can visit Adda52 Store and redeem your crowns and convert them into a free ticket to WPT Unreal.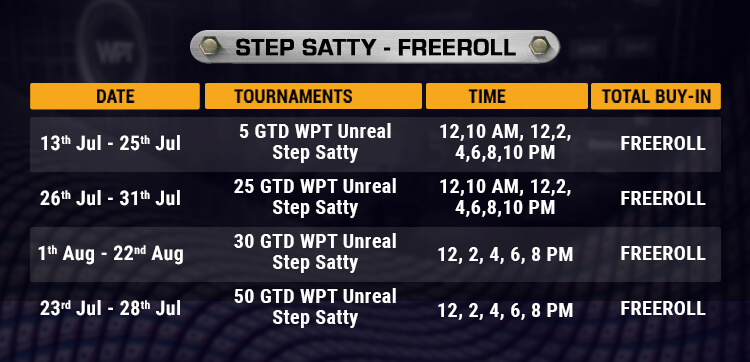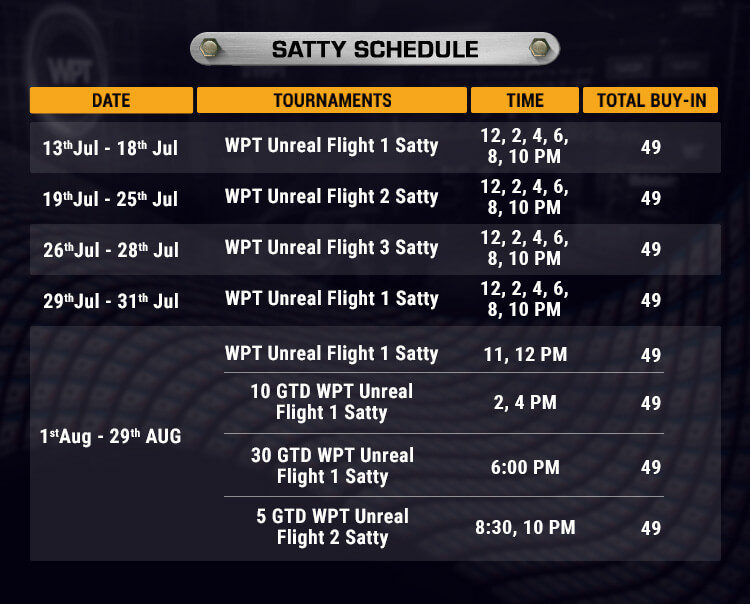 Terms & Conditions
Adda52.com reserves the right to modify or end this promotion at any time without giving any prior notice to players.

All ticket holders will be auto-registered before the start of the tournament. In case of a multi-day Tournament, ticket-holders will be auto-registered on each flight.

Points Formula for leaderboard = SQRT {Unique Entries/ Your Rank x Sqrt (buy-in)}. In the case of multi-day tournaments, Unique player count will be considered across all flights & Final Day rank will only be considered. All the Leaderboard payouts will be given in the form of an Instant Bonus/Tournament Bonus/Booster Bonus.

participating in the tournament, players consent to provide their image, name, interview etc., to be used as promotional content by Adda52.com and its media partners.

Satellite tickets can only be used for designated Tournaments and unused Satellite/Tournament tickets will not be refunded or exchanged with another tournament. Auto-Registration will be done 15 mins prior to the Tournament.

All Main Event Satellite ticket holders will be auto-registered in the 9 PM WPT Main Event Satellite daily.

Some of the featured events may be Live streamed on Social Media with Cards-up coverage with a minimum of 20minutes delay.

All Final Table player names may be revealed and used for marketing purposes.

By registering for this event, you agree that WPT Enterprises, Inc. and its successors, assigns and licensees ("WPT") may display, publish, print, broadcast and use, worldwide, in any media at any time, now or hereafter created, in any and all languages, your name, username, prize winnings, tournament records, picture, voice, likeness, and/or biographical information ("Recordings") for any project developed, produced or owned by WPT and promotional purposes ("Project") without additional compensation. You agree to execute such releases as WPT may require for this purpose. You hereby acknowledge that WPT shall have no obligation to utilize the Recordings in a Project, any other audio-visual work, or otherwise. You hereby release WPT from any and all claims and demands arising out of or in connection with WPT's use of the Recordings, including, without limitation, any and all claims for invasion of privacy, infringement of your right of publicity, defamation (including libel and slander) and any other personal and/or property rights. You hereby acknowledge and agree that in no event may you terminate this release or obtain injunctive relief or other equitable relief with respect to a Project, any streaming segments related to a Project and/or WPT's use of the Recordings.

For any further queries please write to info@adda52.com or call 1800-572-0611