Adda52 Colossus 2022
Are you ready to Unleash Yourself?
Here comes an announcement that will make you go 'Woohoo'!
August is going to be awesome for high rollers, as Colossus - the much-awaited live Poker tournament series - is coming BACK to Goa!
Adda52 welcomes you all at the extravaganza, which will be held from 2nd to 7th August at the Adda52 Live Poker room onboard Deltin Royale.
We are certain that this perfect blend of well-structured tournaments with massive rewards and variety of formats will surely steal your heart.
Get set to unleash your Poker prowess and take your game to the next level. Join this thrilling live Poker spectacle to prove your mettle, emerge as the champion and win mind-blowing cash rewards!
Go on, #UnleashYou!

Highlights
Warm Up Bounty (15K bounty)
A special treat for the high-stakes aficionados! The 50K Warm Up Bounty will be held on 3rd August. What makes it unique? You can win a bounty of INR 15,000 every time you knock out an opponent. A cool way to steal the show, right?
High Roller
One of the biggest attractions of the series - The 200K High Roller event will run from 4th to 6th August. In 2019, the event was taken down by Aditya Agarwal who walked away with INR 31 Lac.
Main Event
The showstopper - Colossus Main Event is scheduled to run from 5th to 7th August. It's your chance to be the next showstopper!
Adda52.com Colossus High Roller Series 2022 is a highly anticipated and super exclusive Poker tournament series in the country. An experience in itself, it will unleash new levels of luxure, grandeur and colossal prizes.
Ready to #UnleashYou?
Download the handbook now for the complete schedule of the event.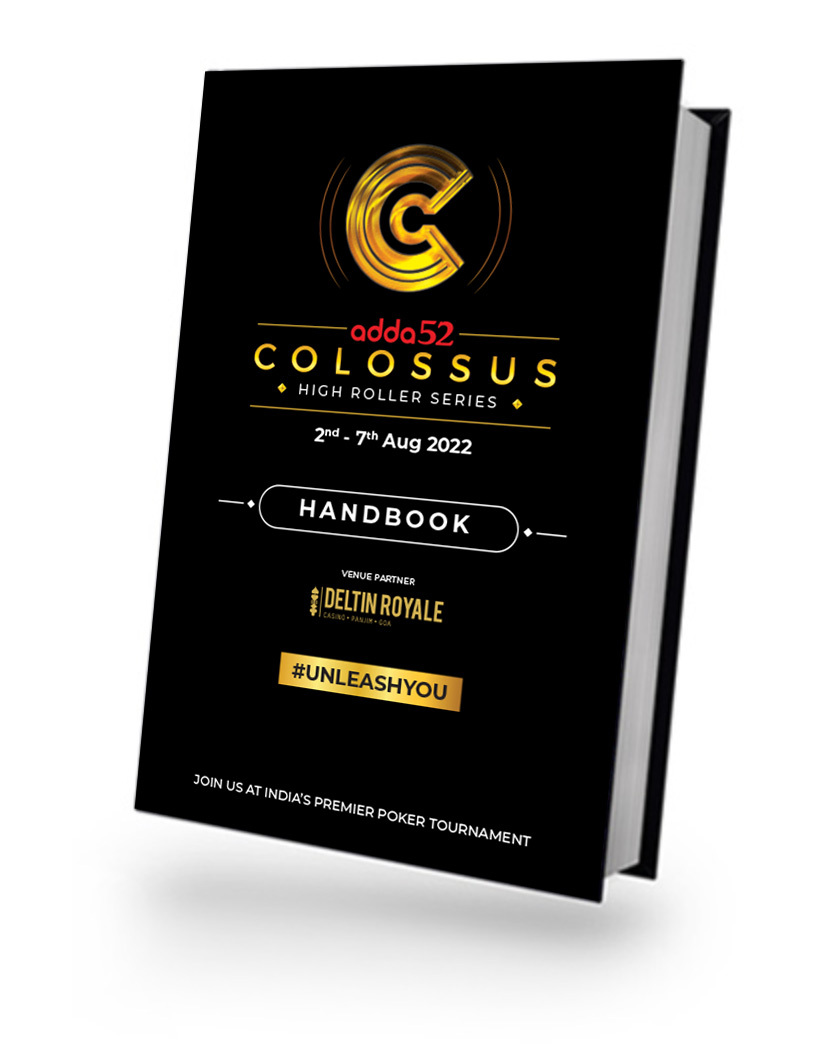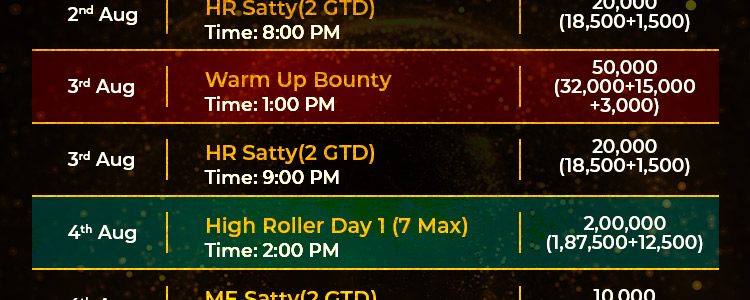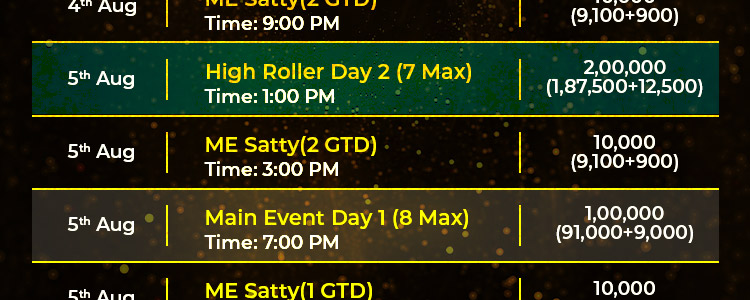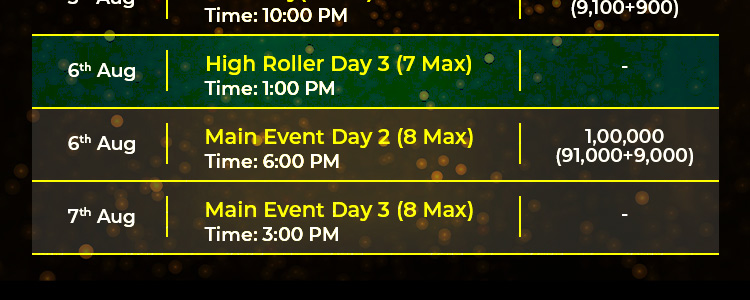 Online Satellites
Yes! You can qualify for the tournaments via satellites that will run from 11th to 31st July on the platform. This is not all! Players can win their way to Colossus by taking part in the step sattys with buy-in as low as Rs. 1000.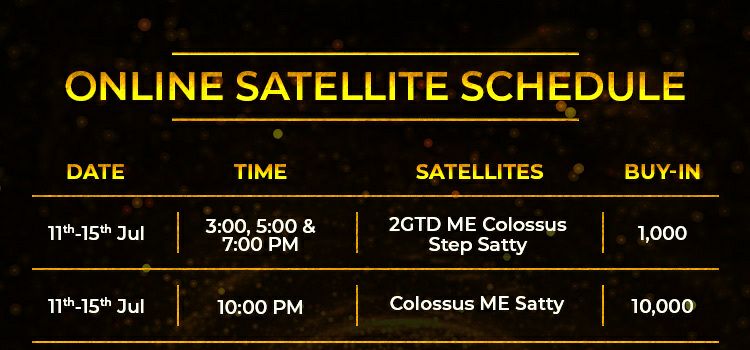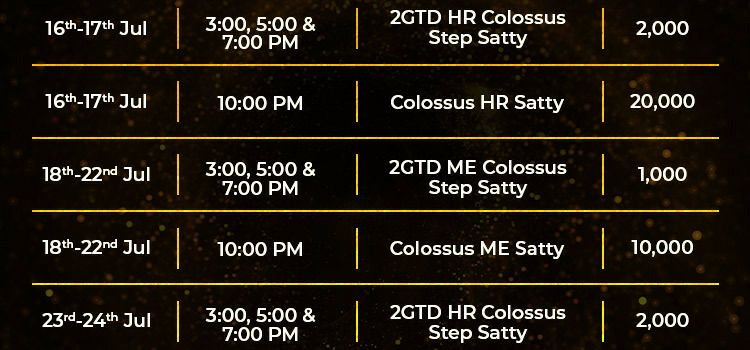 Loads of exciting rewards are up for grabs! Come and join the tables to pit your skills against players from all across the country & stuff your wallets with super winnings.
Book your seats to join the Colossus series NOW!
Terms & Conditions
Adda52.com reserves the right to modify or end this promotion at any time without giving any prior notice to players.

To withdraw the amount deposited using the bonus code, the user needs to attain 7.2 Release Units.

By participating in the tournament, the Winner consents to provide his image, interview, etc., to be used as promotional content by Adda52.com and its media partners.

By participating in this tournament you agree to the terms & conditions applicable as per Deltin & Adda 52.com's policies.

All tournament/satellite ticket of Buyin 1000 or above will be auto-registered, 1 hour before the start of the tournaments.

Adda52 Colossus tournament will be played in Deltin Poker Room at Deltin Royale. All standard gameplay terms and conditions would apply.

The player would have to be above the age of 21.

The Poker room manager or Casino Manager/Tourament Director will settle all disputes or incidents that may occur during the duration of the game.

Management's decision would always be considered as final.

All winnings will be credited to the player's adda52 account within 7 working days.

All players would have to comply with the statutory COVID safety protocol being followed by Deltin Royale.

No staff and immediate family members of theirs would be allowed to participate in the tournament.

All events will start at the stipulated time; any delay will be due to operational challenges & shall not have any compensation.

All Registrations and payments made towards registration are not refundable and not transferable without prior intimation and approval by tournament Director, a no show would not be re-funded.

In the case of No Show, the buyin will go into the prize pool & no refunds can be made.

In case a player wins multiple satty tickets, the remaining tickets will not be refunded and can only be used for re-entry before late registration ends.

All tournament winnings are subject to taxes as applicable at the time of disbursement.

Only pre-registered tournament confirmation code holders will be entitled to a free entry at the jetty.

Required KYC to be furnished on demand during the course of the event and is mandatory for collecting your prize.

Players with Indian KYC and bank account will only be able to participate, incase player wins any amount.

Any tournament ticket of this series received via deposit/discount/satellite/promotion will not be refunded or replaced with any other tournament ticket. All the tickets will expire at the end of the event.

Any rule(s) change or alteration would be at the sole discretion of management only.

TDS and any other charges which may be applicable on the prize pool won, would be borne by the winner.

This game may be addictive and subject to financial risk so please play responsibly.