DPT OCTOBER 2023
Ladies and gentlemen, the Deltin Poker Tournament is back with its 15th edition. This year is a milestone for us, as the Deltin Royale celebrates its 10th year of being one of India's premier gaming and entertainment destinations for enthusiasts everywhere, and we're pulling out all the stops.
The DPT Deltin Jubilee Edition takes everything you love about one of India's premier poker tournaments and raises the stakes. Bigger events, bigger bling, bigger prizes and bigger chances to win!
We'll see you onboard the Deltin Royale from the 11th-16th of October.


The Deltin Poker Tournament is the oldest and one of the most celebrated offline Poker events in the country. From its first edition, it has been a fandom favorite as Poker talent across the country participates in the coveted series and only the best of the lot wins from the huge prizes.
The 14th edition of the Deltin Poker Tournament was a roaring success and the largest edition till date, with over 2,100 entries and a total payout of ₹6,71,77,900 across 12 events.
The DPT Main Event, one of the biggest draws of the tournament, was won by Vasu Bansal who took home winnings of ₹53.76 lakhs. The runner-up, Krishna Khaitan took home winning ₹40 lakhs. Arsh Grover dominated the DPT Highroller Event, winning over ₹33 lacs, while Manju Sabhlok shipped the DPT Ladies Event for ₹72,000.
DPT October 2023 Schedule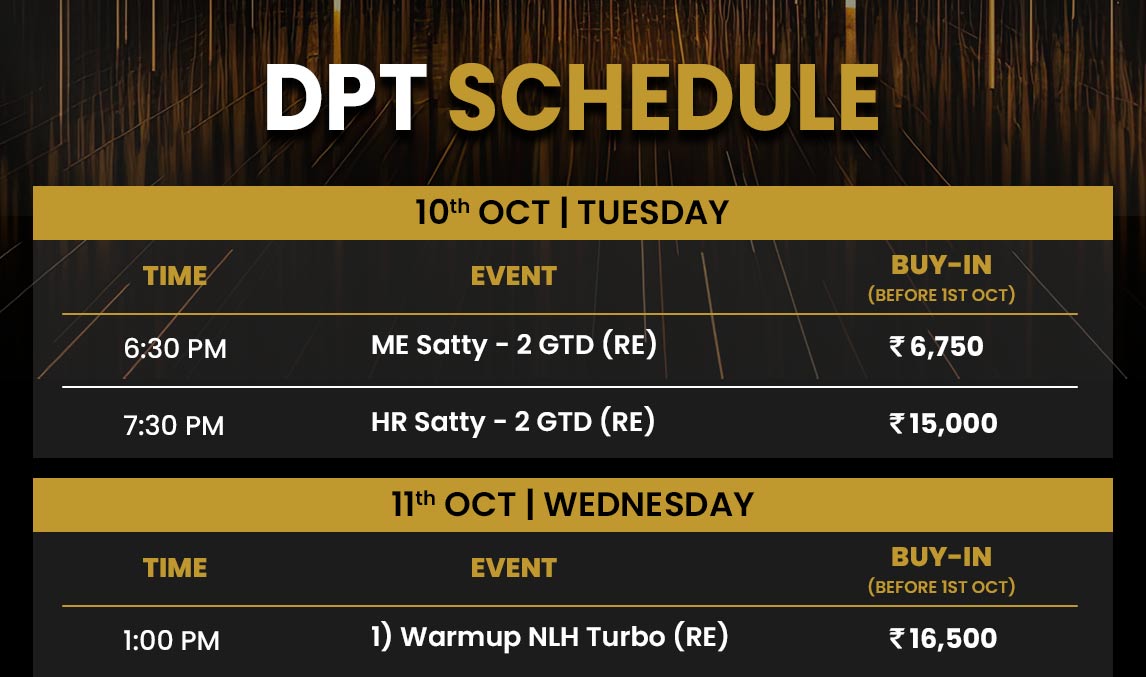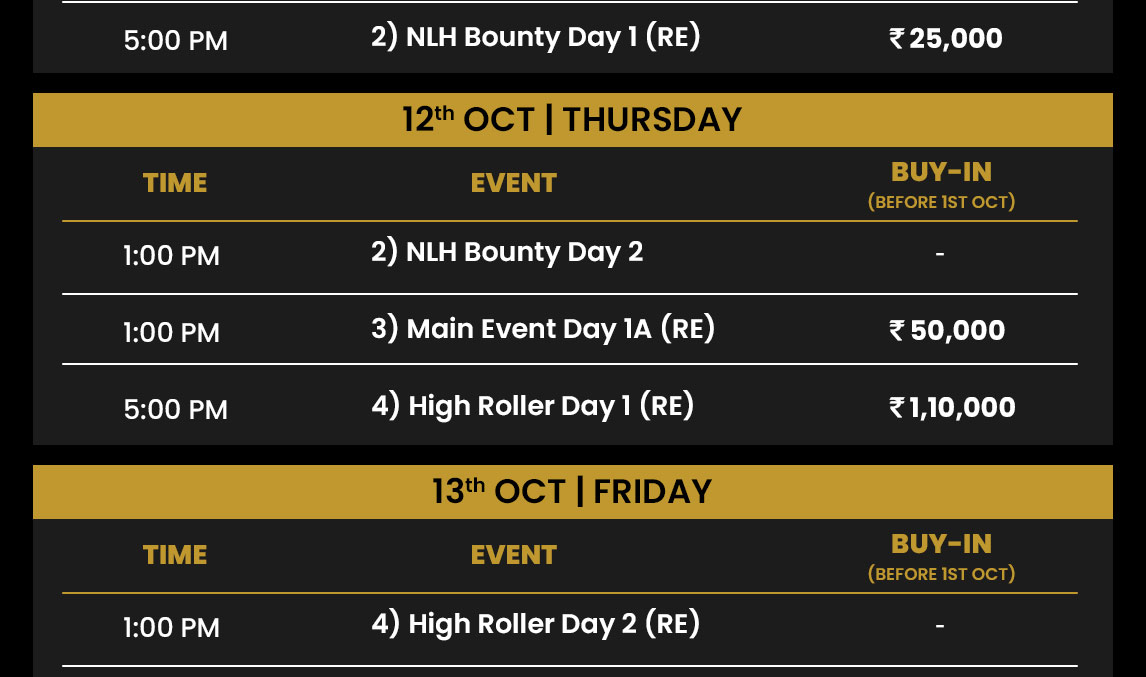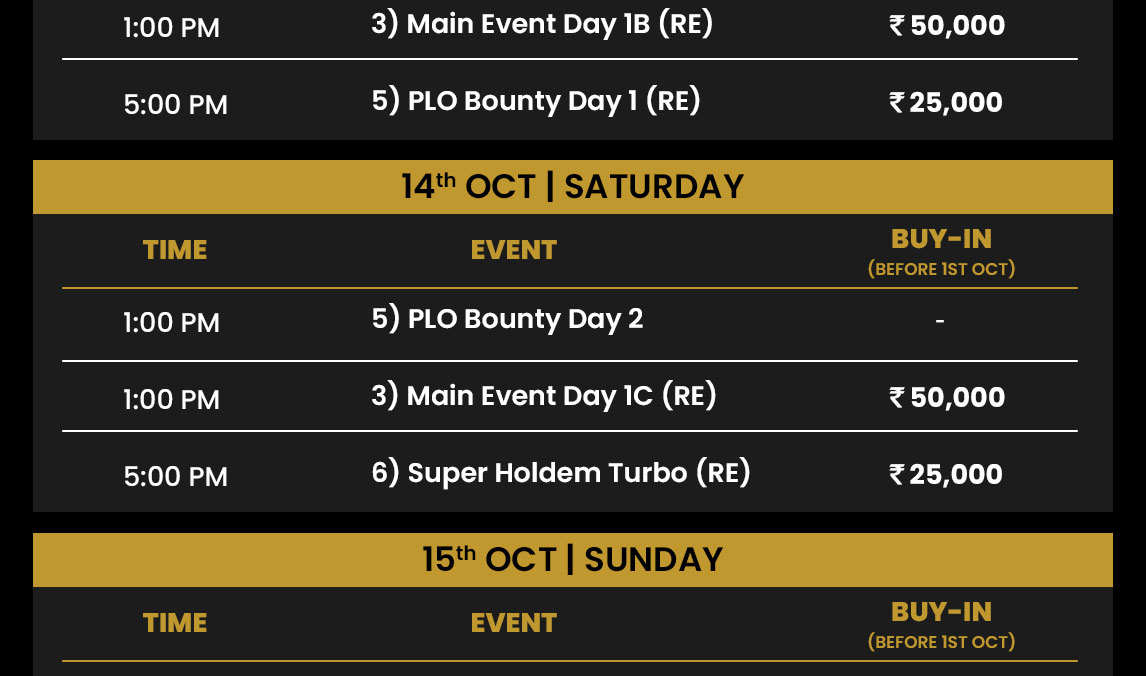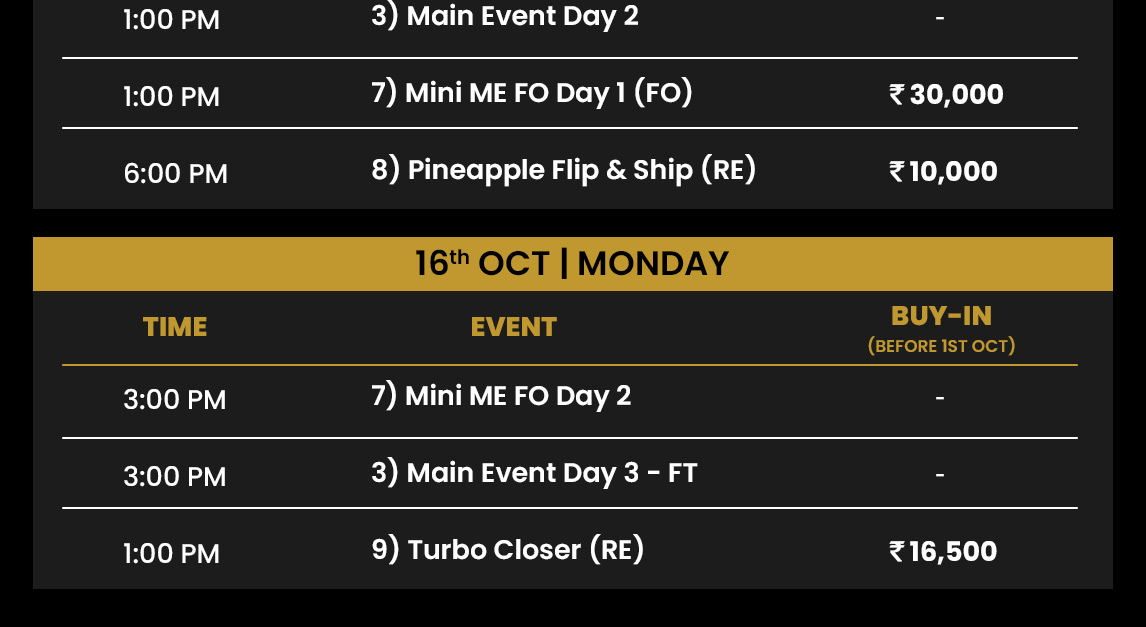 Key Highlights of the DPT
Along with the DPT Main Event and the High Roller event, there are three more special events for our Poker brethren!
NLH Bounty
Bounty lovers, assemble! It's your time to get ready for the Bounty-Game!
PLO Bounty
Raise your hands if you love PLO & you love Bounty. We're waiting for you at the felts!
Flip & Ship
You first got to flip, then you got to ship. If you do the first one right, the second one is already yours!
Play online satellites to book your seat at the DPT!
Here is the Satellite Schedule for the Deltin Poker Tournament: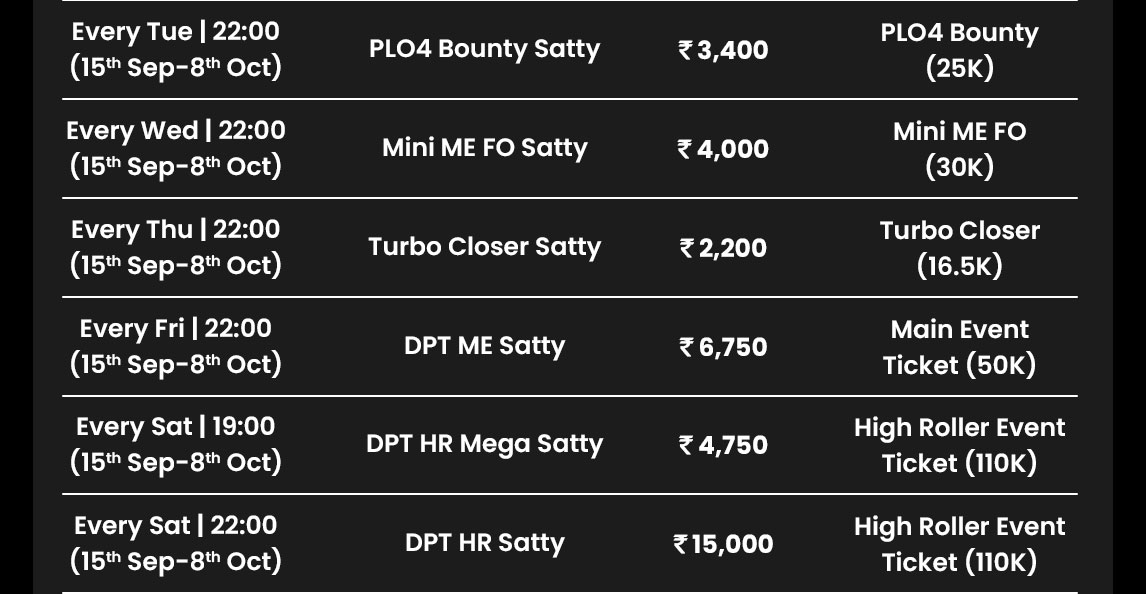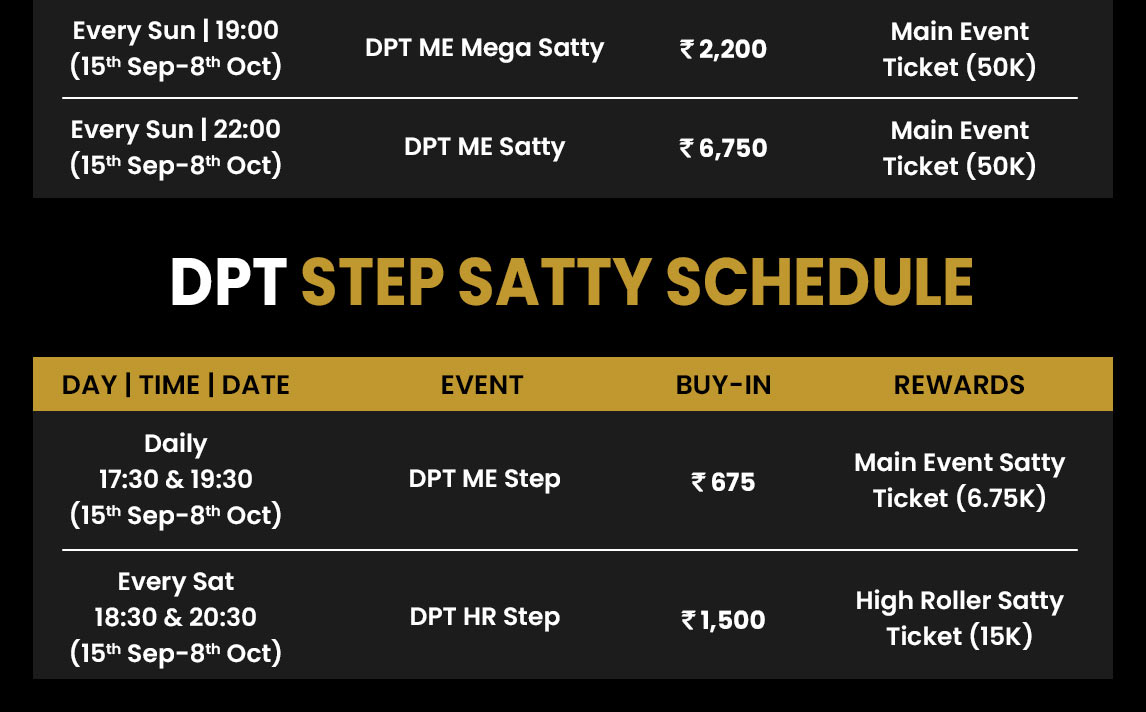 Adda52.com reserves the right to modify or end this promotion at any time without giving any prior notice to players.

All ticket holders will be auto-registered 15 minutes before the start of the satellite & step satellite events.

To withdraw the amount deposited using the bonus code, the user needs to attain 7.2x Release Units of the ticket value.

All unused satellite tickets will be refunded as Tournament Bonus in the respective Adda52 accounts within 14 working days after the event ends.

All unused discounted tickets will be refunded as Tournament Bonus equivalent to the discounted price in the respective Adda52 accounts within 14 working days after the event ends.

All unused tickets acquired via any other tournament promotion (eg: Deposit code/Freeroll/Social Media contest/Goodwill marketing etc) shall not be refunded and will expire after the event.

Any rule(s) change or alteration, or in case of any dispute, the final decision will be made by Adda52 only.

By participating in the tournament, players consent to providing their image, name, interview etc., to be used as promotional content by Adda52.com and its media partners.

For any further queries please write to info@adda52.com or call 1800-572-0611