Just like 2023, the game of Champions has also begun!
Walk the path of glory on the sensational Adda52 Champions Leaderboard. A true test of consistency for a great player is now live at our Poker felts!
Win from a prize pool of Rs. 1.7 Crores & come out on top to be the next Adda52 Game Ambassador. That's not it. The winner also walks away with a contract worth Rs. 20 Lakhs!
So be ready & get yourself indulged with thrilling poker action starting from 1st Feb 2023.
Here is how you can win the title: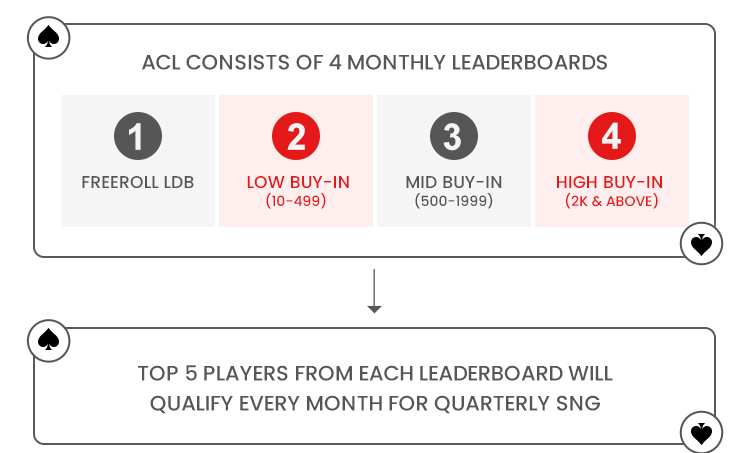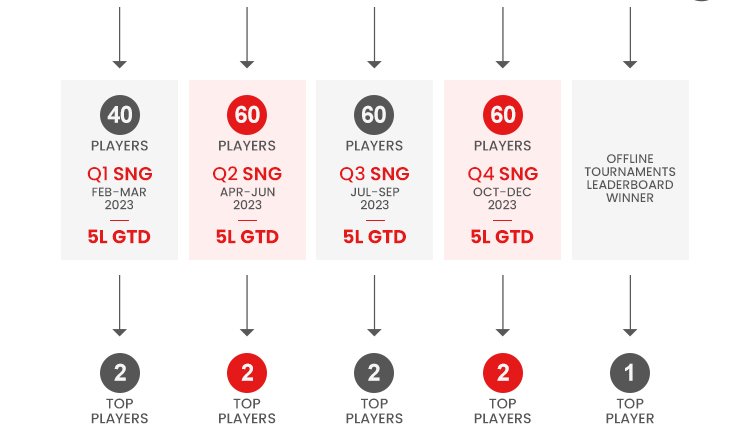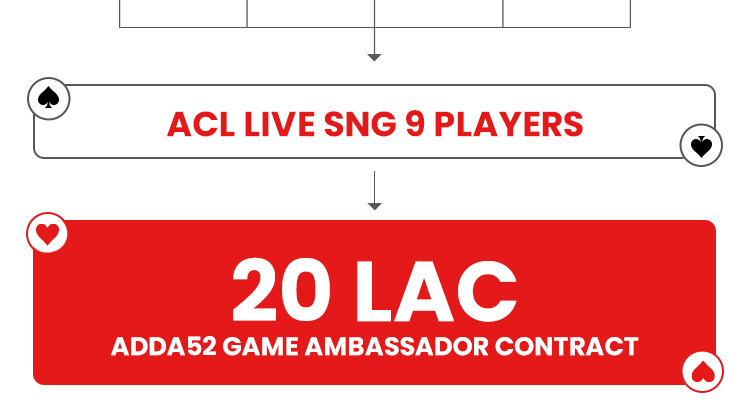 Last Chance Through Offline Tournaments

Last Chance Through Offline Tournaments
You can qualify for Adda52 ACL SNG even if you don't win at the quarterly SNG! The 9th finalist will be decided through different yearly offline tournament leaderboards. Those who will earn maximum points in every offline tournament get a chance to be the 9th finalist in the ACL & win from Rs. 5 Lakhs Prize Pool!

Quarterly ACL Sit & Go Tournament

The Top 5 players from each monthly leaderboard will qualify for Quarterly ACL Sit & Go (SNG). 20 players across all leaderboards will progress to the Quarterly ACL Sit & Go (SNG) every month (60 every quarter) and play for a prize pool of additional 5 lakhs!*.
Quarter 1ACL SNG 9thApr 2023
Quarter 2ACL SNG 9th July 2023
Quarter 3ACL SNG 8th Oct 2023
Quarter 4ACL SNG 14th Jan 2024
9.5* Lac prize pool will be divided over the period of 1 month - 5 Lac NPS & 1.5 Lac every week.
The 4 Quarterly Sit & Go's (SNG) Prize Pool is 20 Lac and the prize pool of additional 5 Lac will be distributed on the final table of Offline Live Sit & Go's (SNG) among the 2nd to 8th finalists.
Join the tournament NOW!!
I was playing online on Adda52.com for a long time and had played several live Poker tournaments but DPT is hands-down the best one in India. The tournament structure is quite good, and overall, it's an experience every Poker enthusiast must have!

This is my first time breaking into the final table of Big Millions and the experience till now has been just amazing. To all the Poker lovers, this is the place to be!

Earlier, I used to play live Poker tournaments or series outside India only. One of my friends told me about DPT and the popularity it enjoys in the Indian Poker scene. I played it this year and the experience exceeded all my expectations.

B. v. ram narayana
Runner-up
TERMS & CONDITIONS
Adda52.com reserves the right to modify or end this promotion at any time without giving any prior notice to players.
All Leaderboard (LDB), SNG winnings will be awarded in the form of TB. The period considered for Adda52 Champions Leaderboard (ACL) is from 1st February 2023 - 31st December 2023.
The 9th Finalist of the live SNG will qualify from the Adda52 live leaderboard that will run throughout the year for all the offline events held by Adda52 (DPT, DPT Express, WPT, Colossus etc.)
Adda52.com reserves the right to modify or end this promotion at any time without giving any prior notice to players.
In case any tournament is cancelled for whatsoever reason, points for the same shall not be added to LDB.
In case of a player qualifies to ACL Quarterly SNG via multiple leaderboards, he/she will get only 1 stack and not multiple.
Tournaments added to ACL Monthly LDB will be considered based on start time.
Points Formula for leaderboard = SQRT {Unique Entries/ Your Rank x Sqrt (buy-in)}. In the case of multi-day tournaments, Unique player count will be considered across all flights & Final Day rank will only be considered.
9.5* Lac Payout will depend upon the number of weekly leaderboard (1.5 Lac Weekly & 5L for Nano Poker Series Leaderboard) & any other series hapenning in the month.
For the points calculation of all the freeroll tournaments, buy-in will be considered as 100.
The 20 Lac sponsorship package for the winner of ACL 2023 will be given as per Adda52 contract.
By participating in any of the LDB's, Players consent to use of their Name, Image, Gameplay, Cards-up Livestreams and agree to share Testimonials in the form of text/video.
For any further queries please write to info@adda52.com or call 1800-572-0611.
For more information regarding the tournament rules click here : https://www.adda52.com/promotions/tournament-rules