START TIME

2018-05-06

ENTRY FEE

Real Cash

GAME TYPE

Holdem MTT (RE)
BIG MILLIONS 2.0
After a successful launch, Adda52 presents to the most spectacular Big Millions 2.0. The action takes over to win a massive prizepool of Rs. 1 Crore GTD. We don't have to tell you twice to mark your calendar for 6th May.
Make it to the Final Table and play it Live at Deltin Royale, Goa.
Not just that, the Winner gets an exclusive chance to qualify for Adda52 Poker Hall of Fame.
Free Ticket

T&C
1) The bonus code 'BIGM' is valid until 6th May, 6 PM.
3) For deposits made using code BIGM, you need to earn 99,000 Loyalty Points to withdraw.
Tournament Schedule:

Check out the Satellite Schedule: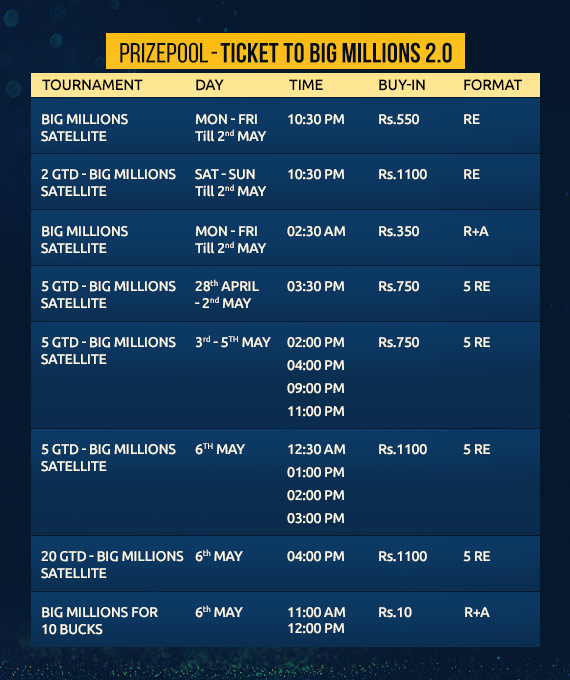 TDS Refund
Players finishing in the money will get up to 50% TDS Refund.
Platinum & above level gets 50%
Gold level gets 40%
Silver level gets 30%
Bronze level gets 20%
Notes
1) Adda52.com reserves the right to modify or end this promotion at any time without giving any prior notice to players.
2) By participating in the tournament, the Winner consents to providing his image, interview etc. to be used as promotional content by Adda52.com and it's media partners.
3) All ticket holders will be auto-registered for the tournament.
5) In case, a player has multiple tickets to the tournament and ends up with an unutilized ticket after the event, the player can use the same ticket in the subsequent tournament.
In case the player wants to refund the ticket, only the ticket earned via playing satellites will be reimbursed in the Adda52 account after the applicable tax deduction.
All other tickets are non-refundable.
6) The Big Millions Free Ticket can be redeemed only on 6th May tournament.