CARD CHASE POCKET EDITION
Your favorite game has marched into this month with a twist. Enjoy Card Chase – Pocket edition all this month. Your first challenge will be unveiled on 1st May and will run till 31st May. Play to win daily assured bonus of 2200 daily and hit the jackpot of 50K.
Triple your winnings in Card Chase with this power-up code.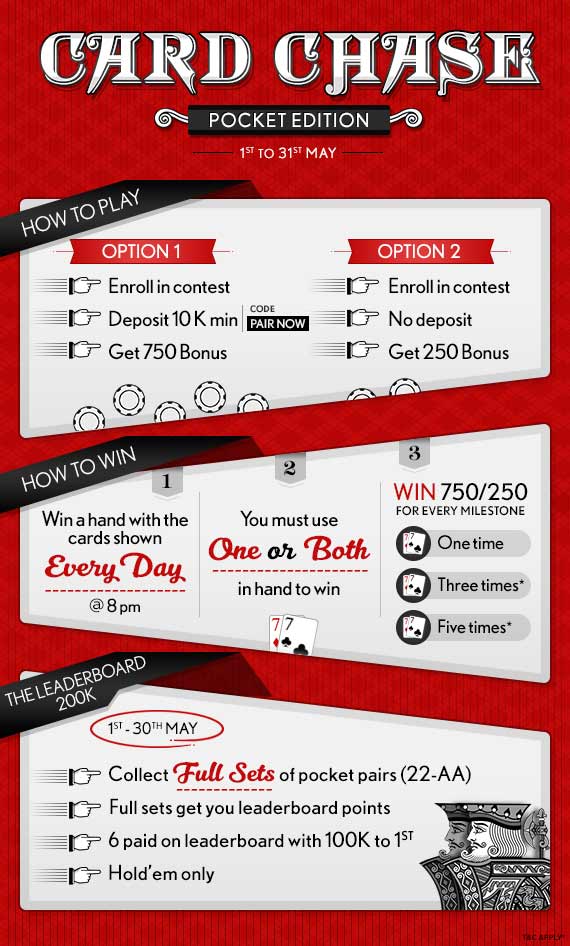 HOW TO ENROLL?
Go to the 'Contests' section in game lobby and click Card Chase – Pocket Edition and start winning.
HOW TO PLAY
1. You'll be given pocket pair face down as part of the daily challenge from 1st -31st May. You need to click the cards daily at 8 PM to know the day's challenge.
2. You need to win hand(s) using One or both hole cards on showdown to successfully complete the daily challenge.
3. Every player who wins hand(s) with One or both hole cards will receive the winning amount - Depositor: 750 | Non Depositor: 250.
4. Hit the jackpot of 50K by completing all daily challenges, at least once. (Only for depositor)
5. If you win a daily challenge 3 times using One or both whole cards, we will double your bonus amount (Depositor: 750 | Non Depositor: 250).
Lowest winnings will be considered. Example challenge cards were c10 & d10 & you win 10 times with c10 & 5 times with d10 than lowest number "5" will be considered for the WIN.
6. If you win a daily challenge 5 times using One or both whole cards, we will triple your bonus amount(Depositor: 750 | Non Depositor: 250).
7. Winning with 3 or 5 times will only be considered after user checks his challenge cards.
POCKET PAIR LEADERBOARD
The good things don't end here. Keep winning the games with pocket pairs and secure a spot on the leaderboard. The top 6 players on the leaderboard will share from a prize pool of Rs. 2 Lac while the leaderboard topper will get 1 Lac up top prize.
HOW WILL THE POINTS GET CALCULATED?
To get eligible for the leaderboard prizemoney, you need to first win hands with minimum one time with all 13 pocket pairs.
For every win you will be rewarded with 1 point. The total no. of wins will be calculated and contributed towards the leaderboard points.
Once you have hit all pairs using pocket pair hole cards, every point earned on a winning hand thereafter will be added to the leaderboard.
SURPRISE GOA OFFER
Get a surprise GOA OFFER in Card Chase Pocket Edition for duration 8PM 12th May18 to 8PM 13th May with following terms & conditions:
1 - Valid for 24hrs from 8PM tonight.
2 - User has to win maximum times using challenge card revealed today at 8PM.
3 - 1 Lucky winner with maximum wins with challenge card. In case of tie, time of win will consider.
4 - Winner will be announced on 14th May.
5 - Winner will get 2N/3D STAY + Casino Entry Free.
6 - The offer is non-redeemable and cannot be exchanged for cash or bonus.
Terms and Conditions
1. Leaderboard only valid for Holdem tables.
2. Only non heads-up will be considered.
3. 25/50 & above blinds cash table will only be considered
4. One or both cards should be used to win the hands at showdown
5. Leaderboard will be updated 7:00 am, next day.
6. All winnings will be given as Instant bonus.
7. PAIRNOW is valid on min deposit of Rs 10K or above.
8.Adda52.com reserves the right to modify or end this promotion at any time without giving any prior notice to players.