Cash Pe Aish
Win a brand new SUV & a poker trip to Deltin Royale Casino by playing on your favourite cash tables on Adda52 in the month of Nov'19, Dec'19 & Jan'20. Cash pe Aish brings 3 months of super rewarding cash game action with extraordinary prizes in addition to never-before Payoff (rakeback).
Starting 8th of each month, earn points for every hand you play on 50/100 & above stakes of Holdem, PLO, Plo Hi/Lo & our new game variant 5 Card PLO. Accumulate points till the end of each month to rank high on leaderboard & earn prizes.
Cash Pe Aish I : 8th - 30th Nov'19
Cash Pe Aish II: 8th - 31st Dec'19
Cash Pe Aish III: 8th - 31st Jan'20
This promotion is only for players who have played on cash table of Big Blind 100 & above in last 1 year.
Win a SUV
Drive out a brand new Seltos (9.69 Lac) by earning 70K Points on all 3 leaderboards!
Win DPT Royale PKG
Get ready for a trip to Deltin Poker Tournament with 2 Lac Package by earning 30K points on all 3 leaderboards!
Win DPT Platinum PKG
Bag 1.5 Lac package to Deltin Poker Tournament by finishing in Top 5 of any 1 out of 3 leaderboards. You need to earn minimum 70K points to grab this package.
Win DPT Gold PKG
Eyeing the coveted DPT trophy? Win the 35K Main Event buy-in DPT Gold PKG by finishing in rank 6-25 on any 1 out of 3 leaderboards. You need to earn minimum 30K points to grab this package.
Points Calculation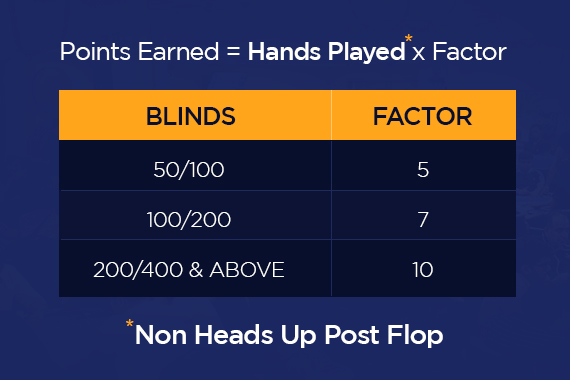 Terms and Conditions
1. A user can claim only one reward in entire promotion. E.g. You can earn 70K points in one leaderboard & claim DPT Platinum PKG or you can claim the SUV by earning 70K points in all 3 leaderboards.
2. DPT Royale PKG has 1.6 Lac of Event Buy-in + 40K for Travel, DPT Platinum PKG has 1.2 Lac of Event Buy-in + 30K for Travel & DPT Gold PKG has 35K for Event Buy-in.
3. All packages are applicable for the 1st Deltin Poker Tournament to be held in 2020. In case of any change in Event buy-ins, winners can use the above mentioned PKG value for event buy-ins.
4. In case a winner doesn't travel to DPT, he/she can claim the Event Buy-ins of his package as Instant Bonus or Real Cash (after applicable tax).
5. By participating in Cash pe Aish, the winner consents to provide his image, interview etc., to be used as promotional content by Adda52.com and it's media partners.
6. Adda52 will provide 9.69 Lac Ex-Showroom price, New Delhi of the SUV to the winner. All taxes on prize to be borne by player. In case, the winner doesn't want to get the SUV, he/she can take 9.69 Lac Insatnt Bonus or 70% Real Caah (after 30% TDS).
7. Adda52.com reserves the right to modify or end this promotion at any time without giving any prior notice to players.