Game of Thrills
ALL 4 HOUSES (SHARKS, MARSHAL, LANCER AND TARZAN) WILL PLAY GAME OF THRILLS ON 5TH MAY STARTING 8 PM.
We are pumping up the excitement up a notch this April (14th-28th), with our new cash promotion, Game of Thrills.
How to Enter
Enroll for Free in Game of Thrills to win upto 20 Lacs
Win maximum number of hands to save a spot on

12 Lac Heavyweight Leaderboard - 200/400 & above blinds
8 Lac Lightweight Leaderboard - 25/50 to 100/200 blinds

The top 16 players from each leaderboard will enter into one of the 4 powerful houses – Sharks, Marshal, Lancer and Tarzan, in a group of 8 each to play the Game of Thrills. Starting Chips in play to be distributed equally among the house members.
Battle it out in 120 minutes of high octane gaming action at defined blinds on 30th April, at 8 PM and crush your opponents. Your stack size at the end of 120 minutes will be credited as Instant Bonus.
How it Works
Let's say, you finish 4th on GOT Heavyweight Leaderboard.
You'll be entered into the GOT Sharks House with 1 Lac Chips to play the game on 30th April.
At the end of 120 minutes of game, assume you are left with a stack size of 3 Lac.
Then, your account will be credited with 3 Lac Instant Bonus as winning prize.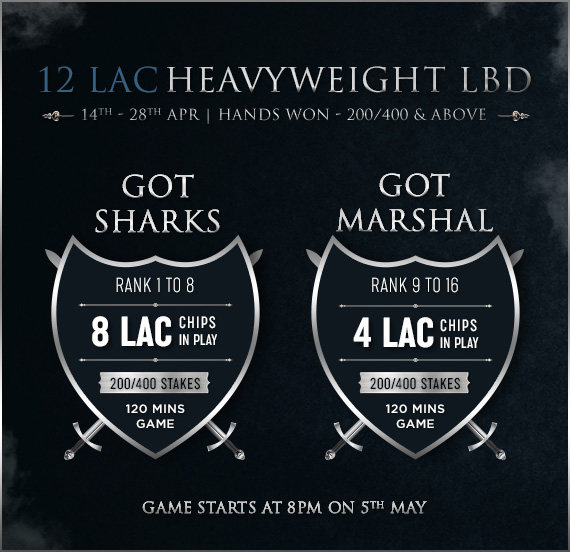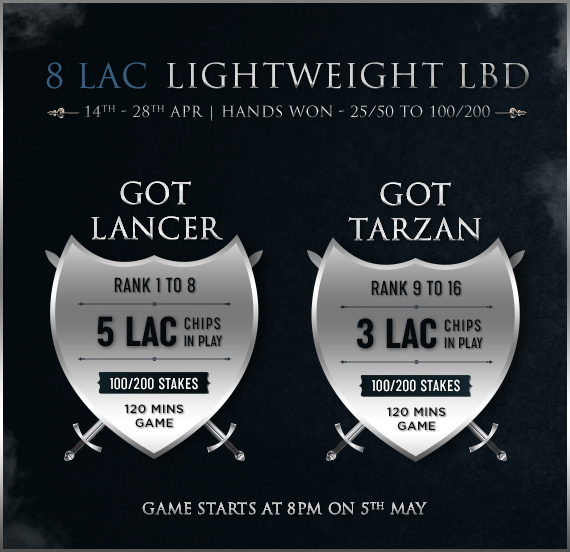 Terms and Conditions
1. Only non heads-up post flop hand wins will be considered.
2. Game will be played on 200/400 stakes for 120 minutes on GOT - Sharks & GOT - Marshal
3. Game will be played on 100/200 stakes for 120 minutes on GOT - Lancer & GOT - Tarzan
4. 100 hands won from 14th to 28th April is the minimum criteria to be a part of GOT.
5. Prize money will be credited as Instant Bonus within 24 hours of game end.
6. By participating in Game of Thrills, the winner consents to provide his image, interview etc., to be used as promotional content by Adda52.com and it's media partners.
7. Adda52.com reserves the right to modify or end this promotion at any time without giving any prior notice to players.