HIT THE CARD
Enjoy the ultimate thrill of non- stop gaming action from 8th to 28th Oct, and claim assured bonus on winning every challenge in Hit the Card contest. Play the game at your own pace and win up to 600* Instant bonus daily!
Participate in the 5-day contest & stand a chance to meet Chris Gayle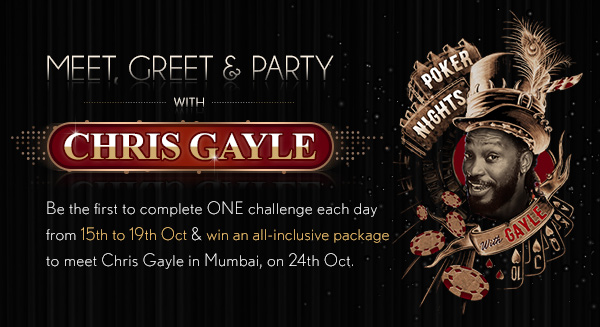 ASSURED WINNINGS, INSTANT PAYOUTS
The all-new card chase is loaded with multiple challenges, assured winnings and instant payouts to give you the most rewarding experience ever!! You can enroll anytime starting 5th Oct - for FREE. So gear up to sweep away big cash rewards by taking up to 3 challenges daily, and win 200 per challenge instantly!
The game is applicable on cash tables of blinds 2/4 to 15/30. Your enrollment is just one click away!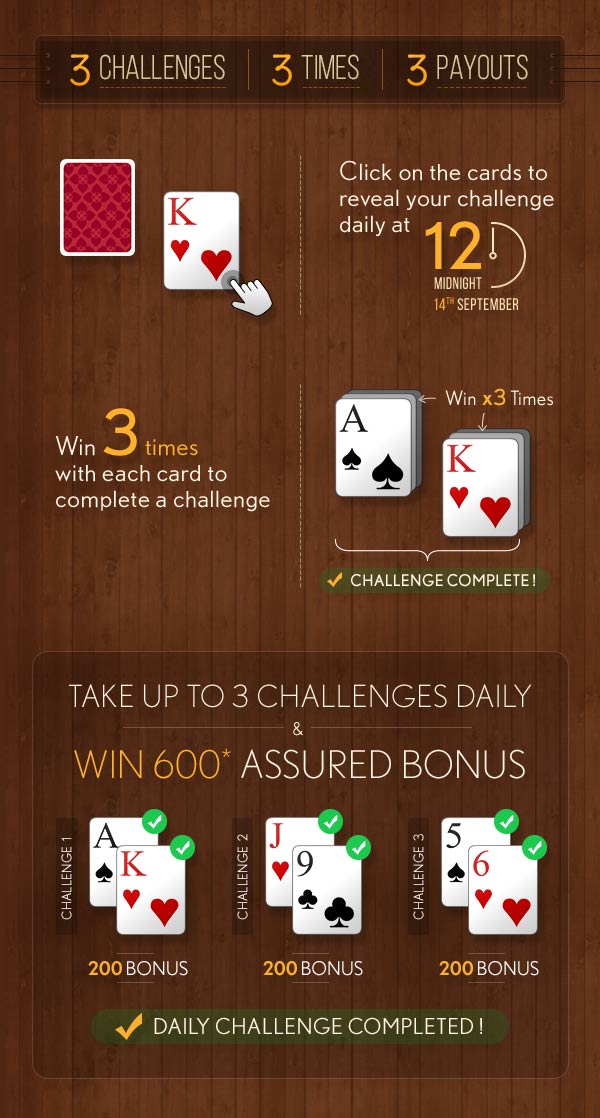 HOW IT WORKS
1. Check daily Challenge –Click on the cards every day at 12 midnight to know your challenge. Once the challenge is completed, you can reveal the second challenge instantly.
2. Multiple Challenges – Take up to 3 challenges daily
3. Win Instant Bonus - Get 600* Instant Bonus
HOW TO PLAY
1. In the game lobby menu bar, look for the 'Contest' Menu and click on 'Hit the Card'.
2. On the pop-up, click on 'Enroll Now' and register for the game.
3. You'll be given 2 hole cards face down as part of the daily challenge from 8th to 28th Oct. To know your challenge cards, you need to click the cards every day at 12 midnight.
4. On cash table with blinds 2/4 to 15/30, you need to win the hands at showdown with both the cards (one at a time or same time) in subsequent 24 hours. Only Non heads-up will be considered.
For example: Let's say your challenge cards are Ac Kh. You need to win:
One hand using Ac and another hand using Kh as hole cards or,
Only one hand using both of them as hole cards
5. All players who complete any challenge will receive assured bonus.
6. Adda52.com reserves the right to modify or end this promotion at any time without giving any prior notice to players.