Adda52 Fair Play Policy


 Q. What is Adda52.com Fair Play?
Ans. - We at Adda52 always strive to maintain Fair play gaming on our platform. Any risk detected that may tamper with our policy and lead to fraudulent activity/ game play of any kind is strictly condemned.

Adda52 ensures it follows the below mentioned process to keep the platform clean of any fraudulent activity.

All depositing user accounts are 100% KYC verified and if we come across any suspicious activity, we ask for VIDEO verification of the profile to ensure player accounts are genuine. The details submitted for regular KYC are verified against the Govt. of India database using Digi Locker platform. Adda52 has partnered with IDFY.com for this purpose.



Any suspicious game play activity is identified by us and/ or reported by our customers from time to time is thoroughly screened by our Compliance team and withdrawals are blocked immediately. If any malpractice is detected in the investigation we instantly block the User account.
BOTs in Real Money Gaming (RMG) is quite a common tool used to beat the system. Some players tend to indulge in taking support of Gaming BOTS to increase their chances of winning. This clearly is against Fair play gaming practice.
It is Adda52's endeavor to work hard in stopping these BOTs from being successful on our App and protect player interests. Towards this we have implemented quite a few automated checks in our system over a period of time.

In our most recent attempt to block a new form of unfair practice, some players enabled 'Admin' settings on our EXE App. We have introduced a fix at the time of customer login to address this issue. Should a customer not comply, they will be continuously logged out till such time :-).

Follow the below steps to disable Admin setting on Adda52 desktop app -

Step 1 - Right click on Adda52 app icon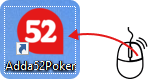 Step 2 - Click on properties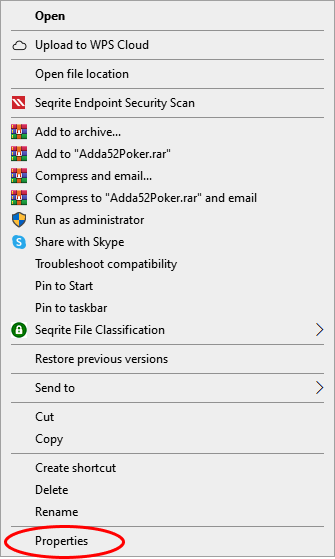 Step 3 - Click on compatibility tab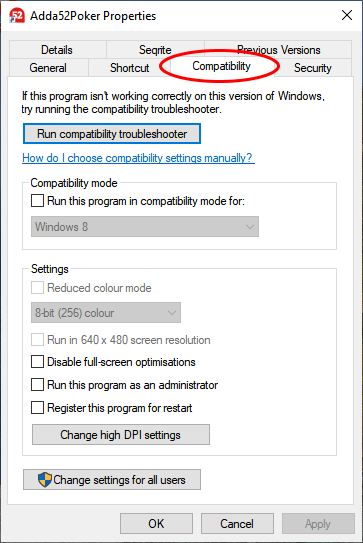 Step 4 - Click on 'Change settings for all users'


Step 5 - Uncheck the 'Compatibility mode' &
'Run this program as an administrator'.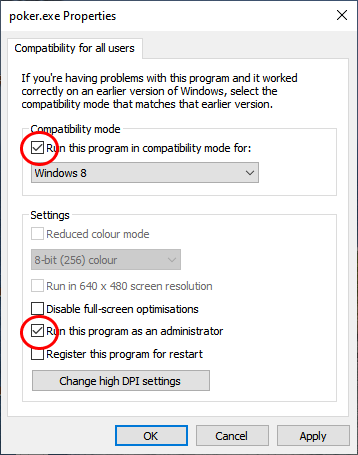 Step 6 - Click on 'Apply' then 'OK' button, to save
the settings.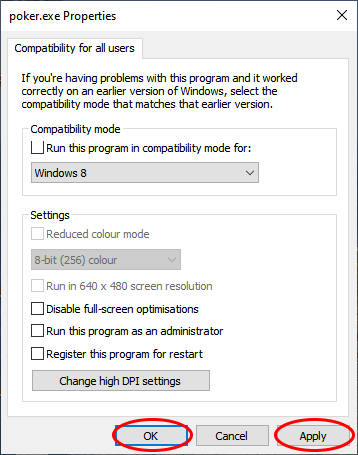 Step 7 - Launch the app

Poker Dictionary