FAQ
Banking FAQs
DEPOSIT
How to make a deposit?
It is easy to deposit money in your Adda52 account to play poker. All you need to do is follow these simple steps:
Create an account on the website by filling up simple details.
Go to 'My Account' page.
Click on:"Add Money" button & agree to the terms and conditions.
You can deposit any amount between the minimum and maximum deposit limit. Click here for more information about the deposit methods.
Q- What are the various payment options available at Adda52.com?
A - Adda52.com accepts payments by Debit Cards, Credit Cards, Netbanking, Wallet, and Pay By UPI.
Q- What is the min. & max. amount I can deposit?
A- The minimum deposit that you can make is INR 50. The maximum amount of deposit is initially INR 10,000 for a new user. However, based on the user's past history points and playing pattern, the maximum deposit amount is automatically increased up to INR 50000. Users can also put in a request to our customer support to increase the buy-in limit at [email protected]
VIP WALLET
What is Adda52 VIP Wallet?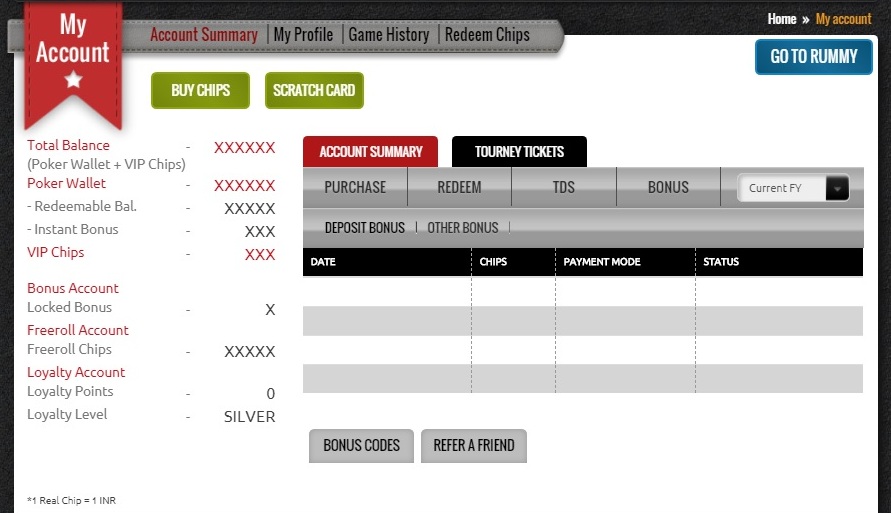 When you make a deposit on Adda52, your money automatically goes into your "Poker Wallet". Your Tournament, SnG, and Cash game winnings will be credited to your VIP Wallet.
You can heck your VIP Wallet balance anytime in "My Account" section. It will reflect the Redeemable Balance (amount which you can withdraw), Instant Bonus (non-redeemable bonus chips which you can use to play on cash tables), and Tournament Bonus (non-redeemable bonus chips which you can use to play tournament and SnGs).
When you take a seat on a cash game table, register into a tournament/Sit & Go, do re-buy or add-on, etc, the buy-in amount is automatically transferred to VIP chips from Poker Wallet.
Tournament bonus cannot be used to play on cash tables. To play Ring games, you need to pay the buy-in using real cash or real cash + instant bonus.
Similarly, you cannot use instant bonus to join Multi-table Tournament and Sit & Go tables. Only real cash or real cash + tournament bonus can be used to get registered to play.
Click here for more information about Adda52 VIP Chips.
CASHOUT
Q - How do I get the money won on Adda52.com?
A - Receiving the money won on Adda52.com is easy. When you win any money on our real tables, the winning amount shall be credited to your Adda52 VIP Wallet balance immediately. You can check the same on 'My Account' section at any time. You can withdraw the redeemable balance or a part of it by following the method given below.
Q - How to withdraw money?
A - Adda52 offers a user-friendly redemption process. All the redemptions requested/modified before 6 am on any given day except weekends and bank holidays get processed the very same day. The amount user chooses to withdraw instantly gets deducted from his Adda52 VIP Wallet, disallowing him to use that amount for playing.
Steps to put a withdrawal request
Login to your Adda52 account.
Go to "My Account" section.
Select mode of redemption (By Cheque or Online).
Click on Redeem chips & fill in the required details.
In case of redemption by cheque, it may take up to two weeks for the cheque to get delivered. In case your physical address/bank account information is not updated correctly with us, please send your address/bank account details to [email protected] from your registered e-mail address along with a proof (Bank statement for bank account and DL/Voter ID/Adhaar/Passport for address proof.
Mobile Number Verification is compulsory for all users who make a redemption request.
Click here for information about Adda52 redemption policy (Withdrawl).
Q - How many of times I can withdraw money?
A - Users are allowed to request one withdrawal every day, however, they can update/modify it any number of times. For redemptions, the 24 hours cycle is considered between 6:01 AM to 6:00 AM.
Between Mondays to Thursdays, all the redemptions requested/modified before 6 am and till 2 pm on Fridays except weekends and bank holidays get processed the very same day.
Any request received/modified outside the defined window will get processed the next working day.
Q - How do I change my bank account details on Adda52.com?
A. It's easy to change your bank account details on Adda52.com. Just mail your new account details along with the bank statement or the front page of the passbook (with account details on it) or a scanned copy of cheque (with your name printed on it) for the above-mentioned bank account number on [email protected] & details will be updated within 24 hrs. Alternatively, you can call our customer care number: 1800-572-0611 (Timings : 12:00 PM to 10:00 PM | Mon - Sun). Our customer support may request for some verification documents for the same to ensure complete safety and security for our users. Our Email and Chat Support is available 24*7.
Q- Will there be a fee levied on withdrawal of money?
A - A normal purchase does not attract any fees or penalty on withdrawal until it's not a case of purchase redeem or the user is found to be involved in any malicious activity/unfair game-play.
If the user fails to accumulate a minimum of 12% Release Unit of the requested withdrawal amount, Adda52 reserves the right to charge a penalty of up to 15% of the deposits made or requested withdrawal amount (whichever is lower). The minimum penalty levied in such cases is Rs 100. The above mentioned 12% Release Unit will have to be earned by the player between the time of last Deposit or Last Withdrawal (whichever is later) and the time of current withdrawal request.
In cases where the user has availed/used any promotional offer/bonus code, the terms of the respective offer have to be fulfilled.
Q- What will happen if my transaction gets failed and chips are not credited to my Adda52 account? However, the money gets deducted from my bank account.
A - In case the amount has been debited from your bank account, please wait for 2- 5 working days and the bank will reverse it to your account. You can always contact our support team (dial 1800-572-0611 or e-mail us at [email protected]) and they'll guide you from there.
Q - What will happen in case of bonus misuse?
A - If a user files a redemption on receipt of any purchase bonus without fulfilling the terms of the promotion, it's considered as misuse of Bonus. In such cases, Adda52.com reserves the right to forfeit the complete Bonus or recover the bonus amount from real cash available in the account or redemption. In certain cases it may even attract additional penalties
TDS
Q - What is the percentage of tax deducted when I convert my VIP chips back to REAL chips?
A - If your net winnings in the Financial Year at the time of conversion is above 10000, 30% TDS (Tax Deducted at Source) is deducted when you convert your VIP chips back to REAL chips.
For more information about TDS click here
REFER A FRIEND
Q - What is refer-a-friend program?
A - Refer-A-friend is a unique referral program for Adda52 users which allows them to earn cash bonus and other referral benefits by inviting their friends to play with them on the website.
You can generate a unique invite link from here which you can share with your friends through e-mail or social media (facebook, twitter). When your friend registers on the website using the invite link and plays a real cash game, you instantly receive bonus chips in your account. Click here for more information about "refer-a-friend" terms & conditions.