Poker Tournaments
RE-ENTRY TOURNAMENT
A re-entry tournament allows you to buy another entry into the same tournament if you're knocked out. You need to pay the buy-in and fee again in order to re-enter with the same initial chip stack.
NOTE: The number of re-entries a player can do in the tournament is mentioned in the tournament lobby while joining.

If you get knocked out during a tournament that has re-entry enabled, you will receive a pop-up displaying an option to re-enter into the tournament with the available buy-in methods as well as an option to leave the tournament.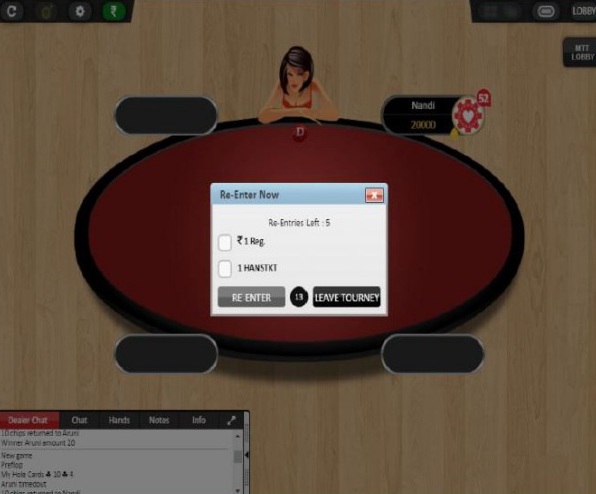 If you initially decided to leave but get an urge to get back in the game, as long as the late registration period is open, you can still re-enter from the MTT lobby (Multi-Table Tournament lobby).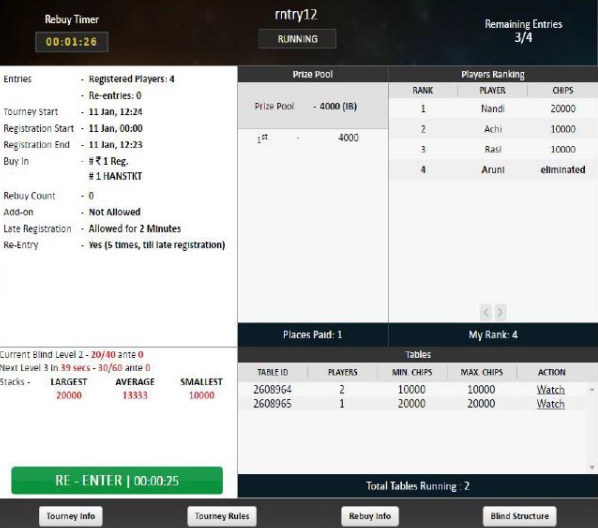 Example: Suppose a tournament (Tourney X) with late registration for 10 minutes and 3 re-entries allowed is running. Now if player gets knocked out from the tournament within 10 minutes then Player can Re-enter three times in the tournament.
NOTE:
We disable re-entry, Rebuy, Add-on Late registration when players are 'In the money' state (no. of players = no. of prizes to be paid) in the tournament
BOUNTY TOURNAMENT
In some tournaments there is an additional prize for knocking a player out of the tournament. This is referred to as a "bounty" or "bounty tournaments"
Some tournaments have a bounty on each player and sometimes only on a specific players, such as last weeks tournament winner or pre-selected poker players.
While registering for such tournament, player has to also pay additional amount as their own bounty along with the tournament buy-in amount and entry fee.   In case of specific player bounty, only those players having bounty on them need to pay this bounty amount but if any other player (who has not paid bounty amount) eliminates them can win this bounty amount.
Example:- Let's suppose Bounty on each player is Rs. 10 and if Player A knocks out Player B on the first hand, then Bounty amount of Rs.10 of player B will be given to player A. Now if Player A knocks out player C, then bounty amount of player C ie. Rs. 10 will be given to player A thus player A will now have total bounty winning of Rs. 20.
The bounty amount earned gets credited into the player's account at the end of every hand but will be visible as soon as you exit the tournament or when you reload game lobby. Bounty will not get added into the prize money / winnings of the tournament.  
In case, 2 or more players eliminates one or more players during split pot/multiple pot, the bounty will be distributed equally.  If the bounty cannot be distributed equally, for example, If there are 4 winners with same hand and the won bounty amount is Rs. 27. Then firstly, equal amount to nearest even amount will be distributed amongst all 4 as whole amount i.e. Rs. 6 will be credited to all 4 players. Remaining Rs. 3 will be credited to first player according to list made by system at the tournament start, and all the remaining 3 players will not receive any share of eliminated player's bounty. At the start of the tourney we make a list of all players. This list is made in random order. Basis on this order remainder will be given to first player according to that list.
SATELLITE TOURNAMENT
A satellite tournament in poker is a qualifying event. Winners of these satellites usually win a ticket which is the buy-in to a larger, more prestigious target tournament like the "Big Millions" Main Event at Adda52.com.
Example:
If a number of "Big Millions Satellites" are conducted in a month with buy-in Rs. 550 and the earned prize is a ticket '1CRTKT', then winner of these satellites earning the ticket '1CRTKT' can register for "Big Millions" main event of pay out guaranteed Rs.1 crore using the same ticket i.e. '1CRTKT' won from "Big Million Satellites". The main target event i.e. Big Million then can be either registered directly with buy-in say Rs. 11000 or through '1CRTKT' ticket won through its satellite.
NOTE: Depending upon the ticket value and the buy-in collected, winning ticket is generated accordingly by the system. Value of each ticket is determined by the buy-in amount for that satellite tournament and the number of tickets being distributed as prize as explained in example given below.
Example:- Lets suppose we have a ticket say "TicketX" and has a value of Rs. 500  and the buy-in for that tournament Rs. 250.
In first scenario,  if 4 players registered in the tournament then prizes will be paid till 2nd rank. i.e. First and second rank will get 'TicketX' as 2 tickets are generated by the system.
In second scenario, if 5 players registered for the same tournament then prizes will be paid till 3rd Rank. i.e. First and second rank will get 'TicketX' and player securing rank 3rd will get Rs. 250 as prize as the ticket amount determined is Rs. 500 so system can not generate the third ticket.
In another scenario, if only 1 player registered for the same tournament then prize will be paid till 1st Rank. i.e. The only registered player will get 'TicketX' and the company will bear the cost of ticket for remaining Rs. 250.
FREEZE-OUT TOURNAMENT
A freeze-out poker tournament is the most common kind of poker tournament. You pay your buy-in and get your chips equivalent top starting stack and play until you run out of chips or win of course! Players cannot re-buy or re-enter into the tournament if they run out of chips.
LATE REGISTRATION:
Late registration is a feature which allows the players to get registered in a tournament which is already started. The time duration/length of late registration period varies and depends on terms & conditions of a particular tournament.  This information is shown in MTT lobby. For ex.- if the tourney starts at 1:00 p.m. and late registration is allowed for 20 minutes, players can enter in the tournament till 1:20 p.m. Player needs to enter  the tournament with the same starting stack as every other player, even if he registers late for the tournament. If re-entry is allowed, a player can re-enter the tournament for predetermined times till the time late registration is open.
Note: We disable Re-Entry, Rebuy, Add-on, and Late Registration when players are in 'In the money' state (no. of players = no. of prizes to be paid) in the tournament.
Poker Dictionary