Adda52 Poker Pros
A group of top-drawer poker professionals from across the country became a part of Adda52 Pro Live. These players are the most successful poker players of the Indian poker circuit, and have won several tournaments and titles in India as well as overseas. The team is a perfect blend of experienced upperclassmen and talented youth, online grinders and live game pros. With such a distinct spectrum of poker players, the members of Adda52 Pro Live are the real ambassadors of poker in India. Being a part of the Adda52 Pro Live, these players will represent India's biggest poker brand and step-up in promoting poker as a game of skill in the country.
Kunal Patni: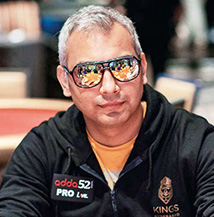 Kunal began his poker journey out of passion and love for the game. In the initial stages, he was a successful banker who worked with Birla, HSBC, IIFL, and many more over 13 years who played poker in his free time. Soon he realized when done right poker can be a full-fledged career. He entered the world of online poker in 2014 when he won the Asian Championship of Poker (ACOP) in Macau. 
In 2015, Kunal finally took the leap of faith and quit his job to pursue poker. He has won and cashed in several championships and received numerous accolades for his poker prowess. His upbeat personality, knowledge of the game and expertise led him to glory and earning the crown of Adda52 Pro.
Arun Sriram:
Arun Sriram is an entrepreneur turned poker Pro from Bangalore. He is relatively new to the circuit playing poker professionally from Aug-2020. His early career was spent as a brand manager in ITC and then went on to build a healthcare technology firm. After taking a break from active work, he focused his time and efforts on poker and went on to score big in a number of flagship tournaments in India.  A culmination of all the performances in 2021 led to him reaching the Adda52 Champions Leaderboard final and eventually winning the title against the best and becoming the Adda52 Pro. The two time Adda52 Big Game champion is an online pro and is making his foray into the Live poker scene this year.
Poker Dictionary